Basalt is the most common rock on Earth's surface. Specimens are black in color and weather to dark green or brown. Basalt is rich in iron and magnesium and is mainly composed of olivine, pyroxene, and plagioclase. Most specimens are compact, fine-grained, and glassy. They can also be porphyritic, with phenocrysts of olivine, augite, or plagioclase. Holes left by gas bubbles can give basalt a coarsely porous texture.
Group – volcanic.
Colour – dark grey to black.
Texture – aphanitic (can be porphyritic).
Mineral content – groundmass generally of pyroxene ( augite), plagioclase and olivine, possibly with minor glass; if porphyritic the phenocrysts will be any of olivine, pyroxene or plagioclase.
Silica (SiO 2) content – 45%-52%.
Basalt makes up large parts of the ocean floor. It can form volcanic islands when it is erupted by volcanoes in ocean basins. The rock has also built
huge plateaus on land. The dark plains on the Moon, known as maria, and, possibly, the volcanoes on Mars and Venus are made of basalt.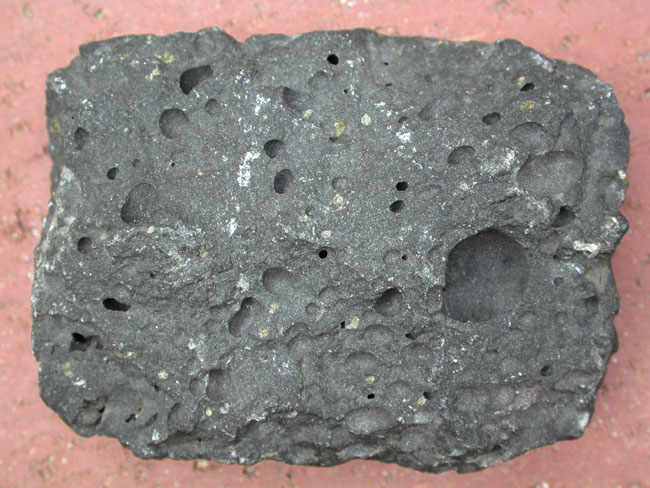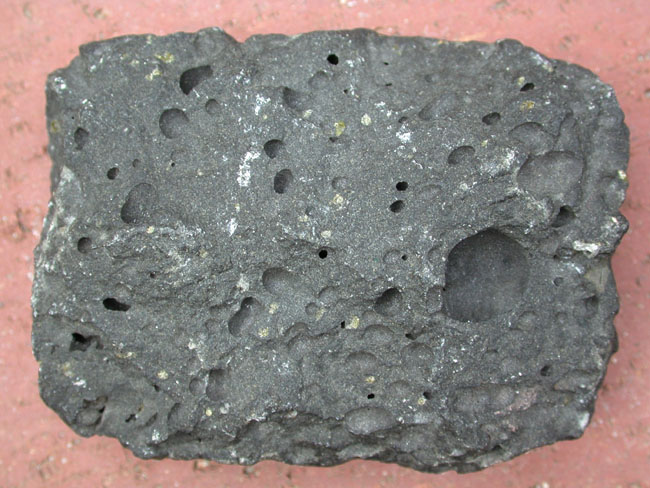 Classification
Types of Basalt
Tholeiitic basalt is relatively rich in silica and poor in sodium. Included in this category are most basalts of the ocean floor, most large oceanic islands, and continental flood basalts such as the Columbia River Plateau.
High and low titanium basalts. Basalt rocks are in some cases classified after their titanium (Ti) content in High-Ti and Low-Ti varieties. High-Ti and Low-Ti basalts have been distinguished in the Paraná and Etendeka traps and the Emeishan Traps.
Mid-ocean ridge basalt (MORB) is a tholeiitic basalt commonly erupted only at ocean ridges and is characteristically low in incompatible elements
High-alumina basalt may be silica-undersaturated or -oversaturated (see normative mineralogy). It has greater than 17% alumina (Al2O3) and is intermediate in composition between tholeiitic basalt and alkali basalt; the relatively alumina-rich composition is based on rocks without phenocrysts of plagioclase.
Alkali basalt is relatively poor in silica and rich in sodium. It is silica-undersaturated and may contain feldspathoids, alkali feldspar and phlogopite.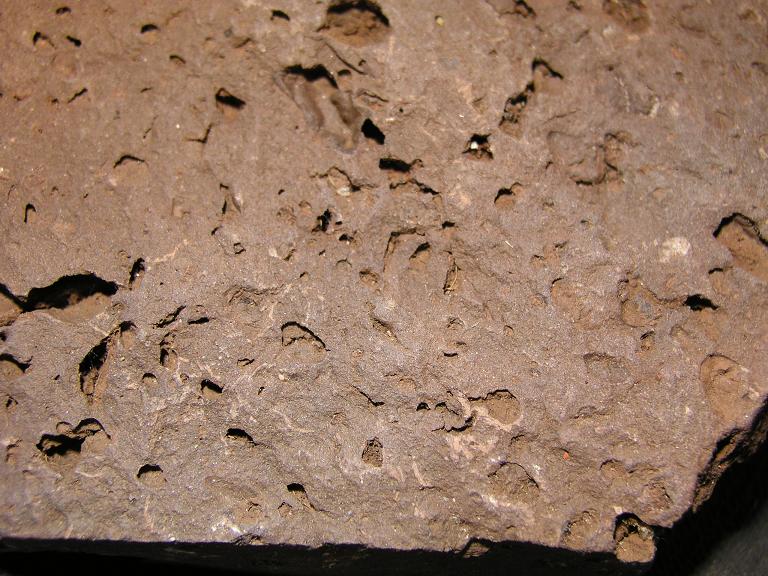 Boninite is a high-magnesium form of basalt that is erupted generally in back-arc basins, distinguished by its low titanium content and trace-element composition.
Petrology
The mineralogy of basalt is characterized by a preponderance of calcic plagioclase feldspar and pyroxene. Olivine can also be a significant constituent. Accessory minerals present in relatively minor amounts include iron oxides and iron-titanium oxides, such as magnetite, ulvospinel, and ilmenite. Because of the presence of such oxide minerals, basalt can acquire strong magnetic signatures as it cools, and paleomagnetic studies have made extensive use of basalt.
Columnar basalt
During the cooling of a thick lava flow, contractional joints or fractures form. If a flow cools relatively rapidly, significant contractionforces build up. While a flow can shrink in the vertical dimension without fracturing, it can't easily accommodate shrinking in the horizontal direction unless cracks form; the extensive fracture network that develops results in the formation of columns. The topology of the lateral shapes of these columns can broadly be classed as a random cellular network. These structures are predominantly hexagonal in cross-section, but polygons with three to twelve or more sides can be observed.The size of the columns depends loosely on the rate of cooling; very rapid cooling may result in very small (<1 cm diameter) columns, while slow cooling is more likely to produce large columns.
When basalt erupts underwater or flows into the sea, contact with the water quenches the surface and the lava forms a distinctive pillowshape, through which the hot lava breaks to form another pillow. This "pillow" texture is very common in underwater basaltic flows and is diagnostic of an underwater eruption environment when found in ancient rocks. Pillows typically consist of a fine-grained core with a glassy crust and have radial jointing. The size of individual pillows varies from 10 cm up to several meters.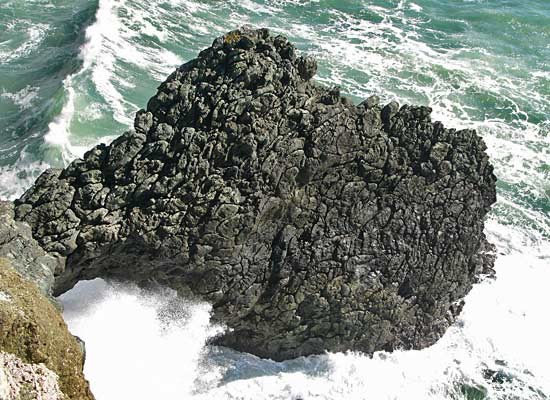 Alteration
Metamorphism
Basalt structures in NamibiaBasalts are important rocks within metamorphic belts, as they can provide vital information on the conditions of metamorphism within the belt.
Metamorphosed basalts are important hosts for a variety of hydrothermal ore deposits, including gold deposits, copper deposits, volcanogenic massive sulfide ore deposits and others.
Weathering
Compared to other rocks found on Earth's surface, basalts weather relatively fast. The typically iron-rich minerals oxidise rapidly in water and air, staining the rock a brown to red colour due to iron oxide (rust). Chemical weathering also releases readily water-soluble cations such as calcium, sodium and magnesium, which give basaltic areas a strong buffer capacity against acidification. Calcium released by basalts binds up CO2 from the atmosphere forming CaCO3 acting thus as a CO2 trap. To this it must be added that the eruption of basalt itself is often associated with the release of large quantities of CO2 into the atmosphere from volcanic gases.
Uses of Basalt
Basalt is used in construction (e.g. as building blocks or in the groundwork), making cobblestones (from columnar basalt) and in making statues. Heating and extruding basalt yields stone wool, said to be an excellent thermal insulator.
Carbon sequestration in basalt has been studied as a means of removing carbon dioxide, produced by human industrialization, from the atmosphere. Underwater basalt deposits, scattered in seas around the globe, have the added benefit of the water serving as a barrier to the re-release of CO2 into the atmosphere.
References
Le Maitre, R. W. (2005). Igneous Rocks: A Classification and Glossary of Terms: Recommendations of the International Union of Geological Sciences Subcommission on the Systematics of Igneous Rocks, 2nd Edition. Cambridge University Press.
Ronald Louis Bonewitz, (2012) NATURE GUIDE AND MINERALS, Smithsonian NATURE GUIDE, LONDON, NEW YORK, MELBOURNE, MUNICH, AND DELHI
Sandatlas.org. (2019). Basalt – Igneous rocks. [online] Available at: https://www.sandatlas.org/basalt/ [Accessed 4 Mar. 2019].